2nd Annual Halloween 5K
Our 2nd Annual Halloween 5K is October 28th. This year from Embers Pizzeria!
5K Run begins at 1:00 pm
1K – Kids race begins at 12:20 and 5K Walk begins at 12:15 pm
Embers Pizzeria is located at 84 Lakefront Street, Lunenburg, MA.
Download your entry form
or
Register online.
Summer Series Races – Last Race
Templeton 5K Trail Race
November 4, Sunday, race begins at 9:00 am behind the Narragansett High School, 464 Baldwinville Road, Templeton, MA. For more information contact jdimucci5@comcast.net.
Jingle Bell Fun Run/Walk 5K
Celebrate the season. Bring your friends, family, bells, Santa hats, and fun!
There will be pasta and salad post race along with fabulous raffle baskets.
December 16,2018 at 12:30 pm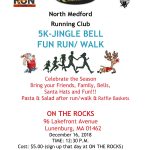 On The Rocks
96 Lakefront Street
Lunenburg, MA
Sign up day of race $5