Twas a hot steamy night atop Nurse Hill!! The scent in the air was thick with a combination of much bug spray and the impending rain. The runners were coming- the runners were coming. The North Medford Running Club was coming to invade the Trails!
We all know Burbank is outpatient only now, and some say the woods have been haunted since! The Trails knew the runners were here- and it was their time.
One body went down 100 yards in, two more went down a half mile in…all told 15 went down at least once- and some multiple times. The blood, the sweat, the skin, and the tears that was left behind told the tale- the trails fought back! Was it the walking rocks, or was it the wandering trees? Was it the tall grass grabbing our ankles- or the linbs bending to slap us aside? Sounds like a pretty routine trail race to me.
I say Stay Tuned!!! There will be a rematch Sunday September the 12th starting from Saima Park at 10AM.
Results have been posted to the Results Page
A Huge thank you to all the volunteers… the Water stop boys, the 2 wheeled sweep team, the timers, the markers, and the heralded NMC Trail clearing crew.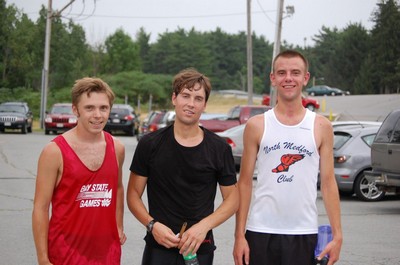 Additional photos here- and courtesy Paul McDermott
http://picasaweb.google.com/mcdermott.paul11/NorthMedford5MiTrailRace#