The 2011 Winter Series opened with the running of the Bob Hersey Memorial 5 Miler. A great crowd was on hand for the Pot-Luck and the Meeting while 58 of you ran the 5 Mile course.
Brian Allen was the winner for the men at 29:06, while Heidi Bixby Handy took it for the Women.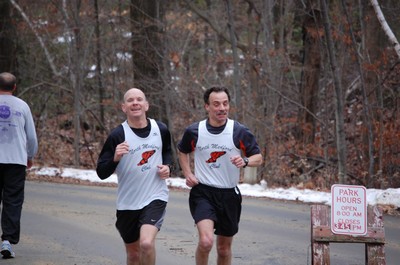 Results Here:
01/02/11 – Bob Hersey Memorial 4 Mile Road Race, Fitchburg, MA
Pictures here:
Bob Hersey Memorial 5 Mile
During the Annual Meeting- Boston Waivers were awarded, and awards for the Club Grand Prix Series were handed out.
Winter Series winners were:
Charlie Salmond Men
Heidi Bixby Handy Women
Trail Series winners were
Charlie Salmond
Amy Paquette
Summer Series winners were
Charlie Salmond
Heidi Bixby Handy
Charlie Salmond was also presented a Club jacket as being the Club Ironman- running all 16 races of the Summer Series.