Christmas Party — Dec. 11th
Save the date
Live Band – Backyard Swagger
Thank you Charlie Herbert for the
generous donation for a live band.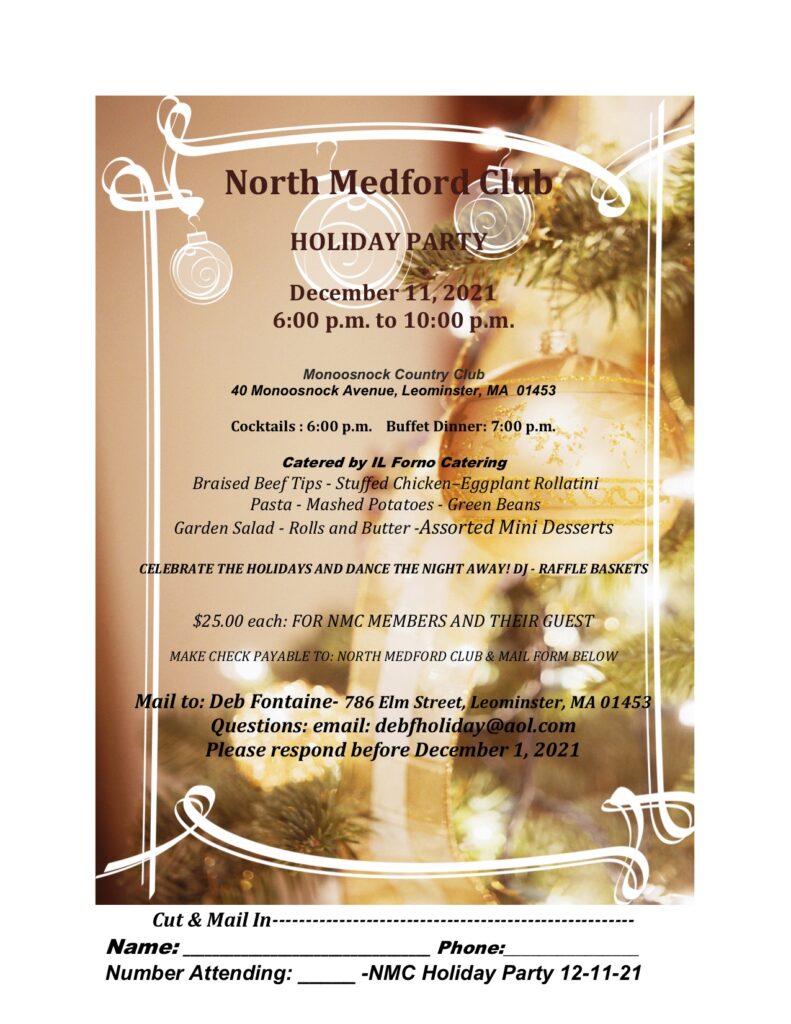 The NMC Christmas party is all set and just awaits you. See the Christmas Party flyer for details. Mark your calendar (Dec. 11th) and RSVP to Deb Fontaine at debfholiday@aol.com by Dec. 1st. Also contact Deb if you have any questions.

See you there!


Last Summer Series Race
Entry fees:
$5 non-club member
$3 member (with prize)
free member (no- prize)

Oct. 23, Saturday, 4C's Race This is a 5.7 mile race starting at 12:10 pm and held at 29 Chapel St. in Shirley, MA. There will be a POT LUCK after the race so bring one of your favorite dishes. Runners must wear NMC colors, orange and black. For more information or questions contact the race director, Phil, at philipmcgaw@comcast.net.
See results here.


Weekly Track Workouts at Fitchburg State
Weekly track workouts are being held on Thursdays at 5:30 pm at Fitchburg State. Safe and social distancing practices will be used. For more information contact Coach Jim at srunshope@aol.com.


Other Races
October 30, Saturday, 15K
This 15K race is on Saturday, October 30, 2021, at 9:00 AM and will held at 703 South Road, Templeton, MA. The 15K course is a combination of two other race courses hosted by Jonathan. The course does have hills.
See results here.

November 25,Thursday, 24th Annual Thanks For Running Road Race
This is a 3 mile race at 151 Boutelle St, Fitchburg, MA. There is an 8:30 am start for walkers and an 8:45 start for runners. The $25 fee goes to benefit The Hydrocephalus Association and a long sleeve tee shirt for you. For questions or more information call (508) 341-1279 or (978) 273-5179, or email 4gboys@comcast.net or elizabethwalsh1@verizon.net.

November 25,Thursday, 42nd Gardner Turkey Trot
Walkers begin at 8am and runners at 8:30 am. For more information go to the website:
https://www.gardnertrackxcboosters.org/greaterturkeytrot.html.